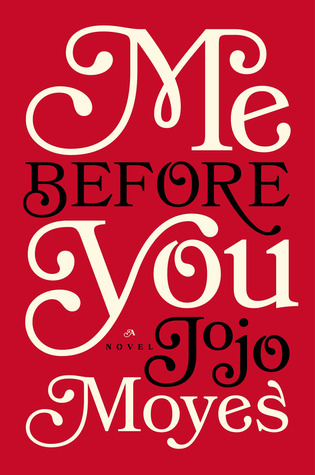 Lou Clark knows lots of things. She knows how many footsteps there are between the bus stop and home. She knows she likes working in The Buttered Bun tea shop and she knows she might not love her boyfriend Patrick.
What Lou doesn't know is she's about to lose her job or that knowing what's coming is what keeps her sane.
Will Traynor knows his motorcycle accident took away his desire to live. He knows everything feels very small and rather joyless now and he knows exactly how he's going to put a stop to that.
What Will doesn't know is that Lou is about to burst into his world in a riot of colour. And neither of them knows they're going to change the other for all time.
---
I just want to start by saying this book deserves so many more than 5* in my opinon. it's a truly beautifully tragic love story one that will stay with me forever.
Have you ever had a friend tell you to read a book? you tell them "No that you can't deal with that kind emotional roller coaster? but they keep telling you to read it insisting that you'll fall madly in love with the characters and even though you'll feel pain it will be the most beautiful kind of pain? that the tears that fall will heal you, one by one? well this is what happened to me.
I'm the first to admit, i'm an emotional person therefore I'm an emotional reader. I love nothing more than to find myself fully invested in a story from the first page. I want to fee like i'm living the character's life that I can feel their pain and share in their love. When I'm so invested in a story nothing else matters. for me it's a rare thing to find a story that makes real life and everything that goes will it cease to exist, cease to matter to me.
This story did.
I loved Lou right from the very first page she was so normal so relatable. I didn't find myself rolling my eyes or tutting. I found myself laughing and thinking to myself. "She's like me!" I think any female reading this book will be able to relate to Lou she's insecure, she's not always sure of what she should be doing. But she's insecure. she's not always sure of what she should be doing. But she's courages and brave and so incredibly strong. Faced with what she is I know I wouldn't be able to be the person she stepped up to be. I'm in awe of her and I think she is my favourite heroine of all time. I cannot fully express how much I adore her.
I fell in love with Will from that very first meeting. something about him reaches inside of you and holds on tight. And it doesn't let go I can tell you that. I've never met a character like Will someone who is so completely sure of what he wants and is brave enough to stand by it. To day I have a choice and I'm making it. I loved watching how he changes, how Lou changes him. or makes him more of his old self I think is a better explanation He was a rare and phenomenal character and one I will love forever.
It takes courage to stay true to your characters to write the story as it should be and not how you know the readers are going to want it to be. I admire Jojo for keeping the story Will's story especially as it was meant to be staying true to him and his choices no matter how much heartbreak, how much sadness it may bring. It takes a lot of guts to do that.
Honestly hand on my heart one of the best books I've ever read, Possibly the best book because it's not a series, Jojo made you fall in love with two characters so completely and she did so in one book. She made you feel things it usually takes a series to feel a whole series to build up, it usually takes a lot of invested time in order for me to feel that but this is one book and when I finished I was left asking myself one question: What author can make me feel like this with one book ! I Cant wait to read the campinon novel after you
5/5 STARS