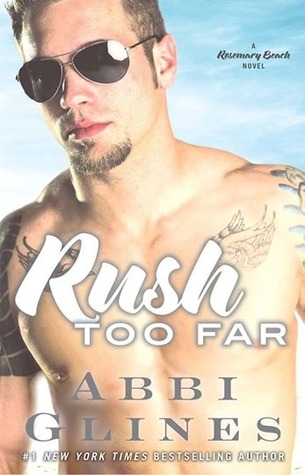 Fallen Too Far was Blaire's story. Now it's time for Rush to share his side.
Everyone in Rosemary Beach thinks they know how Rush Finlay and Blaire Wynn fell in love. But Rush is back to tell his side of the story…
Rush has earned every bit of his bad-boy reputation. The three-story beach house, luxury car, and line of girls begging for time between his sheets are the envy of every guy in Rosemary Beach, and Rush handles it all with the laid-back cool of a rock star's son. All he needs are his best friend, Grant, and his sister, Nan.
Until Blaire Wynn drives into town in her beat-up pickup truck with a pistol under her seat. The Alabama farm girl instantly captures Rush's attention once he discovers that the angelic beauty is his new stepsister, but he vows to keep his distance. Even if she needs his help. Even if he craves her.
Because Rush knows why Blaire is all alone in the world, forced to ask for help from the father who abandoned her three years ago. And he knows if he gets too close it will destroy Nan, who has a secret connection to Blaire.
He has every reason in the world to stay away from her. Find out why he doesn't.
---
My problem with books that I've already read from the 'other' pov- I feel like I know exactly whats going to happen (because, well, I do) so occasionally I don't read them. I couldn't skip this book. I love Rush too much and wanted his pov. Rush Too Far was essentially a re-telling of Fallen Too Far from Rush's pov. Hearing the story from Rush's side was much different than Blaire's. I loved getting inside his head and seeing what he was really thinking…
Note to readers- if you haven't read Fallen Too Far, there may be some storyline spoilers.
Eventually, someone did save me. I didn't deserve it… I've been delivered. By a girl. But she isn't just a girl. She's an angel. My angel. A beautiful, strong, fierce, loyal angel who entered my life in a pickup truck, carrying a gun.
We all know and love Rush Finlay. Son of a rock star, man whore, he's that guy. He's also a devoted brother. And when the person 'responsible' for his sisters unhappiness arrives at his home, he's not sure how to act. He's attracted to Blaire, but there is no way he can go there. No matter how much he may want her. The more he gets to know her, spends time with her, the more he wants.
I loved the conflict in Rush's head throughout the story. Rush was a man who was torn. Torn between his family, and the woman he was starting to fall for. He's a loyal guy to the few people he truly cares for. Nan (as terrible as she may be) is one of those people. It was nice to see that he really did have a lot of internal conflict about how things were going with Blaire. It made me love him even more.
Blaire becomes one of those people. One of the ones he is loyal to a fault for. Someone he truly cares for. It puts him in an extremely difficult position. If he's choosing to be with her, he feels like he's hurting Nan. But Nan can't see past herself to see the woman Blaire truly is. That strong, brave, real and exceptional person she's become. Even with everything she's been through, she sees the good in others. She still fights to survive no matter what.
She would be fine. I would make sure of it. She'd be motherfucking perfect. I wouldn't let anyone hurt her. I'd protect her. She didn't have a father to keep her safe, but she had me. She wasn't alone. Not anymore. She had me.
Rush see's all that in her and wants to be the one to take care of her. She's taken care of herself and everyone else for far too long. And even though Rush has never been one to settle down, she might just be the woman to change all that.
Fallen Too Far is one of Abbi's better books in my opinion, and getting it from Rush's pov was a real treat. I remember reading Fallen Too Far for the first time. To be honest, I wasn't the biggest Rush fan the first half of the book or so. I actually liked Grant and Woods much better. It was nice being able to love Rush from cover to cover. I would have loved the first book in dual pov, because I love being inside both characters heads. I think Abbi purposely wrote Fallen Too Far just from Blaire's pov because we were supposed to fall slowly for Rush. And I'm okay with that!
For all fans of the 'Too Far' series, and everyone out there with a Rush Crush, this his side of the story you won't want to miss out on
4/5 STARS