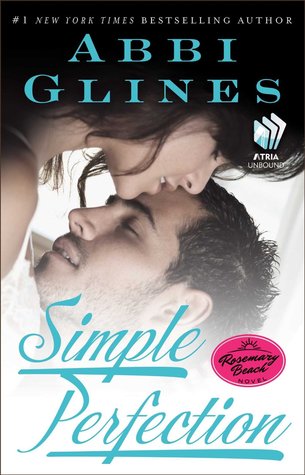 Woods had his perfect life mapped out for him. Rise up the ranks of the family business. Marry the rich girl of his parents' dreams. Pretend that wealth and privilege was all he'd ever wanted. Then a girl named Della breezed into town, a beautifully imperfect stranger who captured his heart and opened his eyes to a new kind of future. Woods is ready and willing to sacrifice everything for her when the sudden death of his father leaves him with his mother to care for and a business to manage.
Della is determined to be strong for Woods, even as she's quietly falling to pieces. No matter how far from home she's run, the ghosts of her past have never stopped haunting her. Struggling to hide her true feelings from Woods, Della fears she can't be his rock without dragging him down into the darkness with her. But is she strong enough to let go of the last thing holding her together?
---
Simple Perfection starts off right where Twisted Perfection leaves off. Woods Kerrington is now solely responsible for his family's country club. He is dealing with his grieving mother, his crazy ex, and the stress is getting to him. Thankfully he has Della. The inly thing keeping him together, keeping him sane.
Della is happy with Woods. For the first time in her life, she feels normal, special, loved. But she also feels that she's undeserving of someone like Woods. Due to her family's history, she thinks he deserves better than her. Someone who doesn't have issues and who doesn't have the possibility of becoming crazy like her mother. She can't stay with him and hold him back.
How could we make this work? This couldn't be forever. I wanted this forever but Woods deserved so much more.
No matter what the couple goes through, and they go through a lot, Woods knows Della is it for him. He never sees Della as damaged or a hindrance. To him, she is perfect. She's the only thing he wants or needs and he will do whatever he has to do to protect her.
"She's my perfection. She holds my heart in her hands. When she hurts it brings me to my knees. There is no way to explain to you the way I feel about her. Just understand that I will not allow anyone to hurt her again. I won't forgive that. I lose a piece of my soul when I see her in pain."
Woods is one of my favorite of Abbi's guys, and my definite favorite of the Rosemary beach series. Not only is he sexy as hell, alpha with a bit of a dirty mouth
"Gonna come. Your hot little mouth wants it, doesn't it? My naughty baby wants it down her throat. Fuck yeah. That's my mouth to fuck."   
but he is kind, compassionate, patient and loving. Pretty much the perfect guy! He loves Della fiercely.
Della is lost throughout this book. She needed to get away to find herself and figure things out. It was nice to get more of Della's background and see her move on from her past and get over some of her fears. Being away from Woods made her realize how much she loves him, needs him, and wants to be with him. Once Della realizes she won't only bring Woods down, that he is the anchor that grounds her, she is able to face him again
"I want to be the strong one sometimes. I don't always want to be the weak one."
"I just want you. In whatever way I can have you."

Just as things are starting to get back to normal for the couple, something big happens that shakes everyone on Rosemary beach. Tore my heart right from my chest. I understand that this happened to set up Tripp's book…. but seriously WHY WHY WHY!!?!??!?!?   I was still devastated. For all the times Woods has comforted and taken care of Della, she has to be the strong one for him now.
She was my glue right now. Being able to touch her was keeping me together.

Della is there for Woods when she needs him. She will do anything she can for him, be everything he needs her to be.
Even though I was heart broken for a while,I was still very happy with the ending. The gas station. Woods makes me swoon like no other. Even though we don't get an epilogue, it's okay. I know we will catch up with these two in Grant's and Tripp's book down the road!
I adore Woods, and Della's journey was wonderful to read about. I wanted a bit more closure with the whole Angelina/Wood's mother thing. That bugged me a little. Maybe in another book, who knows? Although I didn't love this book quite as much as the first, it was still a great read. Looking forward (even if I am a bit nervous) about Grant's book!
4/5 STARS