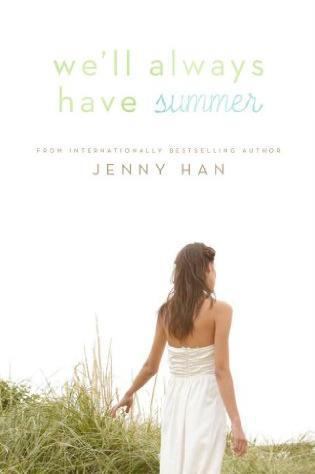 It's been two years since Conrad told Belly to go with Jeremiah. She and Jeremiah have been inseparable ever since, even attending the same college– only, their relationship hasn't exactly been the happily ever after Belly had hoped it would be. And when Jeremiah makes the worst mistake a boy can make, Belly is forced to question what she thought was true love. Does she really have a future with Jeremiah? Has she ever gotten over Conrad? It's time for Belly to decide, once and for all, who has her heart forever.
---
Wow wow wow wow wow!!! This was amazing. Oh man the ending, it was beautiful but so sad! This was sort of a bittersweet book for me, because whoever Belly picked would mean someone would be heart-broken. I think I knew deep down who she would choose but Jenny Han had me guessing 'til the very last chapter.
Like its predecessor, this book kept me up until the wee hours of the night *cough* 4am *cough*. It was just spectacular. Belly had certainly grown up and unlike previously she was not annoying or frustrating, her decisions were a lot more measured and mature. It was nice to see her grow as a person. This time the book had Conrad's perspective in addition to Belly's and it was amazing to see his feelings. I always found him so mysterious and quite cold to be frank, but in this book we learn why he says certain things and acts a certain way, especially around Belly. This last book made me really feel as if I had grown up with the characters, as you can really see them mature. And the actual storyline was, at its core, who Belly truly loved more; Jeremiah or Conrad. But, it was so much more complicated than that, with so many more feelings and emotions and it just felt so real. It was amazing.
I also really loved Belly and Taylor's friendship. And Steven, Belly's brother was so cute and despite Belly's belief that he always preferred Jeremiah and Conrad, he was her brother at the end of the day. You could tell he really loved her. And this is what these books are about, love. Every kind of it.
5/5 Stars