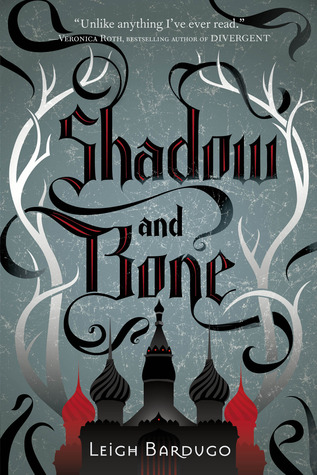 Surrounded by enemies, the once-great nation of Ravka has been torn in two by the Shadow Fold, a swath of near impenetrable darkness crawling with monsters who feast on human flesh. Now its fate may rest on the shoulders of one lonely refugee.
Alina Starkov has never been good at anything. But when her regiment is attacked on the Fold and her best friend is brutally injured, Alina reveals a dormant power that saves his life—a power that could be the key to setting her war-ravaged country free. Wrenched from everything she knows, Alina is whisked away to the royal court to be trained as a member of the Grisha, the magical elite led by the mysterious Darkling.
Yet nothing in this lavish world is what it seems. With darkness looming and an entire kingdom depending on her untamed power, Alina will have to confront the secrets of the Grisha . . . and the secrets of her heart.
---
---
I am in love with the Grishaverse, with this book, with this writing and with these characters. I literally read this book in one day and couldn't stop reading until it was finished.
This book made my imagination so happy. The whole world was beautiful and carefully thought out. It's hierarchical systems, it's wars, it's cultures it's foods it history and most of all its Grisha. I love the concept of the Grisha. They're kind of like witches but somehow so much more. I really liked how their powers were described.
I really connected to Alina our main character. I loved being in her head and reading the story from her perspective. She was also a bit of the damsel in distress but I like it when a heroine sometimes needs to be saved and can't always save herself. She was smart and funny and is easily one of my favourite female main characters.
You might already know but this book has a love triangle. And what do I think about love triangles? I love them because I'm a cliche like that.
There's Mal. The best friend. The ladies man. The brunette with blue eyes. At first I was like no go away I don't you here get off my ship. But as the story progressed it was more like you sweet son of a gun get in here. He is incredibly charming and caring. I'm sill not sure it I ship it, though.
Then there's the Darkling. Hello power hungry dark prince. Dark hair and grey eyes. Evil mastermind. I love villains. I don't know which parts of him are true and which aren't but what i do know is that I need more Darkling.
I don't know what to feel. Mal is good and I know that but the evil heart of Anissa still craves the Darkling. I'm sitting here torn and keep changing my mind.
I also really like the supporting characters in this book. Genya the beautiful tailor was absolutely hilarious. I could say so much about the other characters but I don't want to give anything away because seriously if you haven't read it read it.
4.5/5 Stars