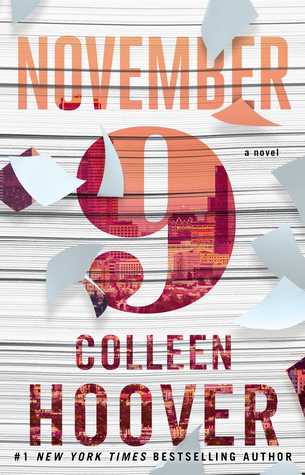 Fallon meets Ben, an aspiring novelist, the day before her scheduled cross-country move. Their untimely attraction leads them to spend Fallon's last day in L.A. together, and her eventful life becomes the creative inspiration Ben has always sought for his novel. Over time and amidst the various relationships and tribulations of their own separate lives, they continue to meet on the same date every year. Until one day Fallon becomes unsure if Ben has been telling her the truth or fabricating a perfect reality for the sake of the ultimate plot twist.
---
Colleen Hoover's books never fail to completely destroy me and November 9 was no exception. It follows Fallon and Ben who meet the day before Fallon is due to move to New York. They connect and spend Fallon's last day in L.A together and before they part they decided to meet up on the same day every year and give each other tasks to push each other.
This book actually sounded like the most adorable book ever. A slow burn romance with the characters only having contact one day per year, giving they time to experience new things and grow as characters.
I adored Fallon. She's feisty and determined but lacks confidence due to a fire that she was trapped in when she was younger which left her covered in burns and ruined her acting career. She took a major hit to her confidence, and I adored seeing her becoming comfortable in her own skin and gaining the confidence to put herself out there again.
Ben Is a completely different story. He's basically an enigma for most of the book. We never really hear much about Ben's past and he's pretty secretive about his personal life. But Ben is the sweetest guy ever. He's adorable and charming and he really helps Fallon come out of her shell. He was just such an amazing character.
And then came the biggest plot twist Colleen Hoover has ever written that completely and utterly destroyed me. I had no idea how I was supposed to feel after the twist or what I was supposed to do. It's the most horrific and heartbreaking twist ever and I had no idea what was going to happen
between Ben and Fallon after the reveal.
November 9 is probably the most cruel book Colleen Hoover has ever written. But it's beautiful and heartbreaking and I loved every minute of it
5/5