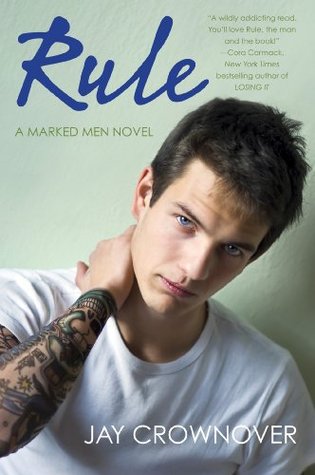 Shaw Landon loved Rule Archer from the moment she laid eyes on him. Rule is everything a straight A pre-med student like Shaw shouldn't want and the only person she's never tried to please. She isn't afraid of his scary piercings and tattoos or his wild attitude. Though she knows that Rule is wrong for her, her heart won't listen.
To a rebel like Rule Archer, Shaw Landon is a stuck up perfect princess and his dead twin brother's girl. She lives by other peoples's rules, he makes his own. He doesn't have time for a good girl like Shaw even if she's the only one who can see the person he truly is. 4
But a short skirt too many birthday cocktails and spilled secrets lead to a night neither of them can forget. Now, Shaw and Rule have to figure out how a girl like her and a guy like him are supposed to be together without destroying their love…or each other.
---
Opposites definitely attract and when they collide they explode with force! I have to say it was the cover that drew me to this book can you blame me? After reading the book the cover was PEFECT for Rule. I doubt there's one better to match. Here we have Rule, tattooed bad boy pierced up to hell and then Shaw who's been pining after him since she was 13.
A tragic accident robs them both of someone they love and Shaw becomes the glue that hold Rule and his family together. The chemistry between them is intense and raw and I was drawn to both characters right away. How will it work? She's a straight A student and he's a hot headed manwhore ( to put it lightly) It doesn't look like it would work but it really, really does and I was captivated by this story. I completely fell in love with Rule, he had a heart of gold that was shadowed by his appearance and he could sometimes be overlooked.
I loved the dialogue and overall behaviour between Shaw and Rule, it made me laugh and love them even more. Neither were afraid to stand up to each other and those around them. There is a thin line between love and hate and you're bound to step in each one some time. Rule hates the rich kid, Shaw hates that when she sees him he's always naked or half naked with a different girl. Why cant he love her like she loves him? So she walked away…and he followed her to try and work out this thing between them. Could they make it work?.
Although a romance story there is a lot of depth and elements that make up these characters and the situations around them have influenced them in profound ways. The book itself was addictive and I was always found myself wanting more. I couldn't put this book down, all Shaw wanted was Rule, she didn't care he wasn't perfect and even though he knew he wasn't perfect, Rule was determined to be perfect for her. Sighs.
5/5 Stars