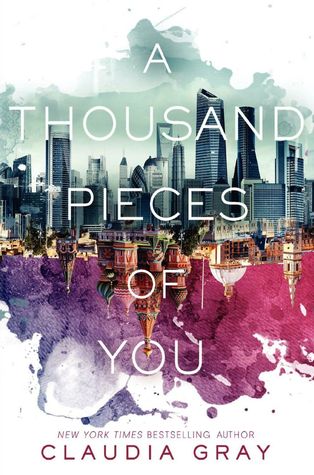 Marguerite Caine's physicist parents are known for their groundbreaking achievements. Their most astonishing invention, called the Firebird, allows users to jump into multiple universes—and promises to revolutionize science forever. But then Marguerite's father is murdered, and the killer—her parent's handsome, enigmatic assistant Paul— escapes into another dimension before the law can touch him.
Marguerite refuses to let the man who destroyed her family go free. So she races after Paul through different universes, always leaping into another version of herself. But she also meets alternate versions of the people she knows—including Paul, whose life entangles with hers in increasingly familiar ways. Before long she begins to question Paul's guilt—as well as her own heart. And soon she discovers the truth behind her father's death is far more sinister than she expected.
---
Claudia grey's new series has captured the imagination of many readers. This book is a book I definitely judged by the cover (guilty!!) and like a lot of people I think it is undeniably gorgeous. I like that it hinted at the protagonist talent as well as the dimension travelling theme of the book rather than just a generic pretty cover which can be common these days.
Marguerite Caine is the daughter of world famous physicists who have managed to invent a device the Firebird which enables inter dimensional travel. But knowledge like that puts the entire family in danger and soon her parents are betrayed by their assistant Paul. Marguerite joined by Theo another of her parents assistants is soon jumping dimensions chasing after Paul in a bid to avenge her murdered father. However she quickly realises people and things are not as they seem and some would kill to get their hands in the secrets of the Firebird….
The story was set up using flashbacks showing how the Firebird came about and the dynamics between the characters Marguerite had grown up having her fathers assistants around and often living in the family home. Paul and Theo have been around longer than usual and have become fixtures in the Caine home and so Pauls betrayal stings Marguerite badly. It was inspiring to see her fight through her raw grief to he father and pursure Paul despite the dangers.
I loved the intricacy of the world building which is crucial to any fantasy or sci-fi book and Claudia Grey has done a fabulous job. Each dimension that Marguerite travelled to was really creative in its inception and sometimes radically different so it kept me on my toes trying to anticipate how similar of different each new dimension would be. I particularly enjoyed reading the science behind the Firebird and it made the whole premise more believable.
A couple d thoughts on why the book lost a star for me was there were points where I would've liked to see a bit more independence from Marguerite. She was accompanied at most points throughout the book with either Paul or Theo who were on hand to help her out of tightspots. Also the fact that her father was Alive and Theo absolved of guilt in the end felt a little top convent for me. It would've been interesting to see Marguerite grow from experience of those negative aspects of the firebird. That said though I did like how there were clues in the flashbacks as to what was really going on. It made me go back to chapters as i read to find hints and that kept it fresh and intriguing.
The next book is out already and comes packaged in a similarly beautiful cover there will be three books in total in the Firebird series. I would definitely recommend this book to anyone
4/5 Stars