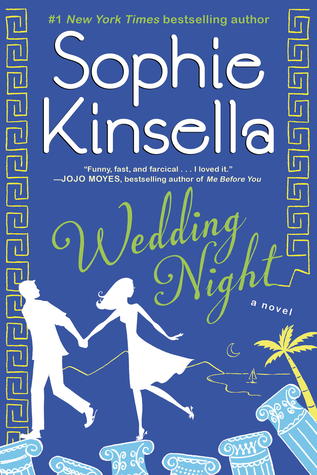 Lottie just knows that her boyfriend is going to propose but then his big question involves a trip abroad- not a trip down the aisle. Completely crushed Lottie reconnects with an old flame and they decide to take drastic action. No dates, no moving in together they'll just get married…. right now. Her sister Fliss thinks Lottie is making a terrible mistake and will do anything to stop her. But Lottie is determined to say "I do, for better or for worse.
---
Wedding night is told from the viewpoint of two sister Fliss and Lottie. Lottie thought she had found the man of her dreams and is convinced that he's about to propose and when he doesn't she realises he doesn't want what she wants and try break up. When old flame Ben comes back into Lottie's life and reminds them of their pact to get married u they were both still unwed at 30 Lottie jumps at the chance. Her sister Fliss however couldn't think of anything more horrific. Marrying someone you haven't seen for 15 years? She knows what Lotti is like after s break up and suspect this is Lottie's mad cap reaction to the break up and will stop at nothing to stop this wedding from going ahead. Knowing first hand what divorce is like and how awful it can be. When Lottie and Ben head off on honeymoon Fliss isn't far behind but can she stop Lottie and Ben before they make the biggest mistake of their life or is Fliss about to make the biggest mistake of her life in chasing them down?
I loved wedding night. The duel narriation was awesome at letting us follow each sister as Lottie and Ben try to consummate their marriage and as Fliss does everything in her power to stop that happening whilst chasing them down to their Greek honeymoon in ikonos. I found myself rooting for Lottie And then rooting for Fliss. But mostly I was rooting for Fliss if only because her ways of stopping Lottie was inventive and that's bro mild. What Lottie and Ben go fhougj on ikonos was brilliant.
The characters were I was never truly convinced about Ben he seemed to have some hidden sneaky deapths and I never felt we got to see the true Ben. Lottie and Fliss were fabulous
5/5