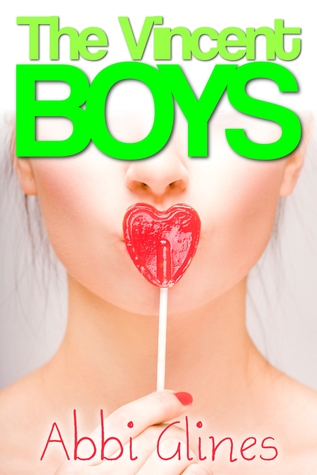 Ashton is getting tired of being good, of impressing her parents and playing ideal girlfriend to Sawyer Vincent. Sawyer is perfect, a regular Prince Charming, but when he leaves town for the summer, it's his cousin Beau who catches Ashton's eye. Beau is the sexiest guy she's ever seen, and even though he's dangerous, Ashton is drawn to him.
Beau loves his cousin like a brother, so the last thing he wants to do is make a move on Sawyer's girl. Ashton is off-limits, absolutely. That's why he does his best to keep his distance, even though he's been in love with her forever. When Ashton wants to rekindle their childhood friendship in Sawyer's absence, Beau knows he should say no.
Ashton and Beau don't want to hurt Sawyer. But the more they try to stay away from each other, the more intense their urges become. It's getting way too hard to resist….
---
I have been super excited to read The Vincent Boys since reading the Rosemery beach series.
When they were younger Ashton, Beau and Sawyer were best friends and were always together. But when they got older and things changed. Ash became Sawyer's girlfriend and her friendship with Beau suffered because of it. This summer, Sawyer is away on holiday with his family and Ash thinks it's about time she tried to fix her friendship with Beau. But Beau now has a reputation he is the towns bad boy and a good little preachers girl like Ashton shouldnt be anywhere near him. But now they started hanging out Ash can't seem to stay away. Beau is hot and Ash is feeeling things she hasnt felt before. This good girl is about to do something drastic- but what will happen when Sawyer returns
I loved The Vincent Boys! Oh my gosh, it was so good! It;s such a sweet story becasue it's all based on strong feelings. It's told from both Ash and Beau's points of view and yes. Beau has a reputatation but he hasnt had the best childhood and when it comes to Ash he'd kill anyone who hurt a hair on her head. He loves her, he has always loved here but then she started going out with Sawyer. Sawyer and Beau are as close as brothers and have such a strong bond so he was hardly going to get in their way. But it was difficult to keep being friends when Ash started to change from the fun, reckless, mischievious girl he knew into Little Miss Perfect. But now Sawyer is gone, it's hard to stay away from her when she won't stay away from him. He's playing with fire, he knows this but he could finally get what he's always wanted Ash. I loved Beau he was the sweetest guy and so flirty! He's in a constant turmoil becuase he loves his cousin but he loves Ash too.
Ash… wow. I liked Ash but that girl has some serious issues. She is constantly trying to be the perfect girl becasuse she's with the perfect guy. She's always trying to make sure she's worthy of Sawyer to the point where she kinds of loses who she is. Yet she thinks of the side of herself that she doesnt want to clean her father;s church all the time and doesnt want to be do-gooding who wants to do something exciting as bad. That side of her is bad and she must force it away because if she's bad she'll lose Sawyer but while he's away she finds she can relax a little especially when shes with Beau who accepts her for who she is. Which is why she finds it so easy to just give in with him because he doesnt judge and she feels so free so herself.
I didnt have a problem with the fact that she was cheating on her boyfriend which i find odd. If anything I was urging her too because this guy who she has to be someone else for? What? Then you meet him and he's not an orge yet i still didnt have a problem. That makes me worry about what it says about me. I am so against cheating you have no idea but maybe because its fiction and not real and because it was based on real feelings i can just push it aside? i dont know but it was weird. But the romance was so sweet and the aftermath well it was interesting
Now, the sex. There is some graphic sexual content in this book, but it's not as bad as I was expecting. I actually thought this was the original, until I was told that no, this is with the added sex scenes (For anyone confused – Hot Key Books physical books and the uncut eBook – both with the black and white covers – are the graphic versions. The eBooks with the same covers but in colour are the originals Glines published). It's not that bad. It's not chock full of sex, the focus is still on the romance, and really, a line is drawn on how much we actually get to see. As I said above, the eBooks with the coloured covers are the versions she published, so the new uncut versions are as well as, not instead of, and we can choose which we get to read, so we have a choice. If it was replacing the originals altogether, I would have a problem, but they're not, so I don't see why this is a bad thing. Especially as the sex scenes really aren't that bad; it's not erotica. It's sexy without going over the top.
The Vincent Boys is a fantastic read; sweet, sexy, a huge emotional rollercoaster for the characters, and one of the best love triangles I've ever read. I'm definitely a New Adult fan, and definitely a Glines fan! Really looking forward to reading the sequel, The Vincent Brothers, as well as Glines other novels!
4/5 STARS