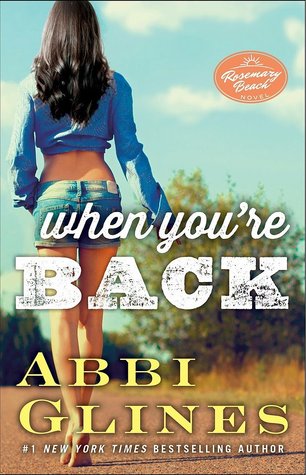 The future is bright for Reese Ellis. She has Mase Colt-Manning, the man of her dreams, and a family she didn't know existed until her long-lost father arrived on her doorstep in Rosemary Beach. After growing up with a cruel mother and abusive stepfather, Reese is eager to get to know the caring and charming man who wants to be a part of her life. Everything is finally falling into place.
While Reese is visiting her new family in Chicago, Mase spends time with his "cousin," Aida, who has worshipped him since childhood. Though they're unrelated by blood, Mase and Aida have been raised to think of each other as family. But when Reese returns, she can tell something isn't quite right with Aida, who clearly resents Reese and excels at manipulative little games. And though Mase is unsuspecting, Reese knows Aida doesn't love him like a cousin should…
---
I was so excited to read When You're Back was going to my next read. You see I was excited to get more of the sexy Southern cowboy Mase Colt Manning as I fell in love with him after reading When You're Gone. He became my second favourite Abbi man after Woods. but I was nervous about what was in store for both him and Recess.
I have to say the drama and angst that was there, and there was some wasn't too bad. Yes, they did have a bit of a bumpy road as a couple of other characters were playing manipulative little games. And when trust, honesty, jealousy and insecurity issues come into play, it makes Mase and Reese doubt their relationship and what they really meant to each other. So it's safe to say I was a little frustrated with them both at times.
However, with what was going on you couldn't deny how much Mase loved his girl and how much Reese loved her cowboy. In true Abbi style, the lust, passion, attraction, and the chemistry between Mase and Reese was undeniable these two had so much love for each other. And I love that! Loved watching Mase and Reese grow as a couple as they faced this bumpy road together.
When You're Back was a heartwarming story about true love, trust, and growth, honesty, with a little drama and angst thrown in. There was a continuity error, but that didn't take away my enjoyment of the book. I loved the little twist that Abbi threw in and, as a result, I went from having a mild dislike for a character to seeing them in a whole new light. Well-played Abbi!!
Overall, I enjoyed this one. There is something familiar about an Abbi book. I love her ability to draw me in every time, and I love the feeling I get when reading one of her books, and that I read most it with a grin on my face. I'm looking forward to reading the next book in the Rosemary Beach Series The Best Goodbye, which will be Blaire's brother Captain's story.
4/5