Hey guys today I am here with another book review
Title Co-Wrecker
Author Meghan Quinn
Publication Date March 17th 2017
Format ebook
Genre Romance
Rating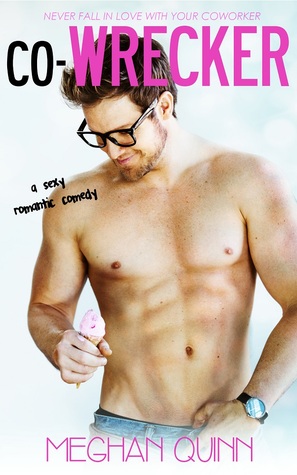 What do ice cream and Sadie Montgomery have in common? They're both ice cold, but one taste is never enough.
I wanted to be friends — I would have even settled for her seeing me as anything but a nerd — but there was no getting through. So just like any hard-headed, red-blooded man out there, I made up my mind.
I'd make my coworker fall for me.
I'd like to say it was simple, but like every other epic love story, all it took was one drunken night and a lot of naked courage to get the girl. For a moment, at least.
Love with a coworker is never simple, especially since Sadie's trying to keep us on the low. Not to mention her persistent ex-boyfriend who won't leave her alone. But I've never been good at giving up, and I don't plan to start now.
The whole thing is a recipe for a rocky road, but I plan to eat the whole gallon, no matter how bad the brain freeze
This book was ADORABLE!!!!
Andrew, the computer geek/nerd with a dirty mind and mouth was absolutely ADORABLE!
This book is EVERYTHING – the whole package – an utter delight! Every single time I pick up a book by Meghan Quinn I know I am going to be blown away in some way. This is no different when it comes to Co-Wrecker! This book is a hilarious novel about two co-workers who, at first, have a silly love/hate relationship, but suddenly become more as they get to know each other (silly quirks and all). Laced with her trademark humor and swoon worthy characters, Meghan Quinn has written a winner! This is a must read novel for fans of romantic comedies, fans of the author's work, and those who like their books to outrageously funny! Oh yea, and if you like ice cream and hot, nerdy boys too.
In addition to the humor of this book, it should be mentioned that the secondary characters and the feeling of friendship and love really emit through these pages. If I could have gone into this book (literally) I know that I would have wanted to be a part of Sadie and Smilly's group. Friendships are one of the most important relationships anyone can have and this friendship is amazing! I just really love how real the author made it feel- you can really connect with them all-
Overall, this is a fantastic read – the type of book you will want to read in one sitting – and comes very highly recommended from me!